Updated Biography
For some reason I must have written my bio when I was still drinking. Many grammatical errors and phrasing problems later. I decided to re write it. Sober. I hope you like it.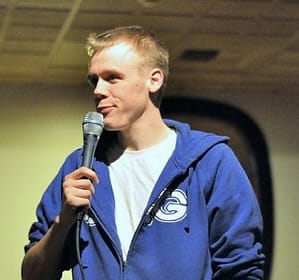 Andrew Rivers was on a path to success working at a marketing agency before it all came crashing down with the stock market.
Andrew was laid off and was urged to try stand up comedy by some friends. It started as a way to get out of the house while looking for a new job and turned into a life changing habit.
After 300 shows in each of his first two years as a comedian. Andrew quickly became one of the northwest's breakout stars and gained a reputation for being one of the hardest working comedians out.
Currently touring as a young full-time comedian across the country. Andrew talks about his life experiences in a fun way, that's relatable to almost any age audience. He performs all over the country and has worked with Richard Lewis and the Cast of Whose Live Anyway.
Andrew's newest CD: "Future Sex/Love Jokes" is available now on itunes. Please purchase a copy before Justin Timberlake sues him.